small by design
Hidden between Madison and Milwaukee is legendary Lake Mills, Wisconsin. A metaphorical small pond with a really great lake and some of the finest folks around. And me. Hi! Stop by sometime, you'll love it.
For now here's an abridged portfolio of my print, web, identity and product graphic design and creative direction for boutique shops, big brands and a lot in between. And as swell as these pretty pictures are, the strategy, market research and positioning behind each one matters as much or more. Every project has a story.
Unless otherwise noted all work is drawn, written, produced, thunk, landed, coded, etc. by me. I do all my own stunts. For this I am ever grateful, as it allows me to create a diverse body of work for a fantastic collection of clients. Maybe even you someday.
Be good people. Know good people. Do good work.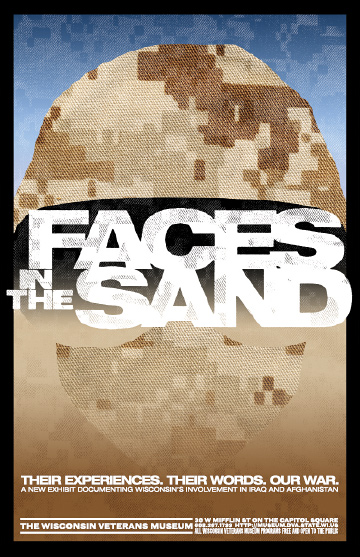 The Faces In The Sand exhibit panels drew inspiration from the necessities of desert combat life itself. The lasting image of the the Iraq and Afghanistan conflicts is of helmeted, goggled Marines battling both the natural elements and the unseen enemy obscured within. The horizon is a blur of sand, with MARPAT—Marine pattern digital camouflage first implemented during the conflicts—clouds dotting the sky and rocks marring the land below.
The exhibit itself featured an amazing battle-scarred stonework installation by Damien Luyet of Bang Construction, and family portraits of fallen Wisconsin soldiers by Nicole Cooke Photography.