small by design
Hidden between Madison and Milwaukee is legendary Lake Mills, Wisconsin. A metaphorical small pond with a really great lake and some of the finest folks around. And me. Hi! Stop by sometime, you'll love it.
For now here's an abridged portfolio of my print, web, identity and product graphic design and creative direction for boutique shops, big brands and a lot in between. And as swell as these pretty pictures are, the strategy, market research and positioning behind each one matters as much or more. Every project has a story.
Unless otherwise noted all work is drawn, written, produced, thunk, landed, coded, etc. by me. I do all my own stunts. For this I am ever grateful, as it allows me to create a diverse body of work for a fantastic collection of clients. Maybe even you someday.
Be good people. Know good people. Do good work.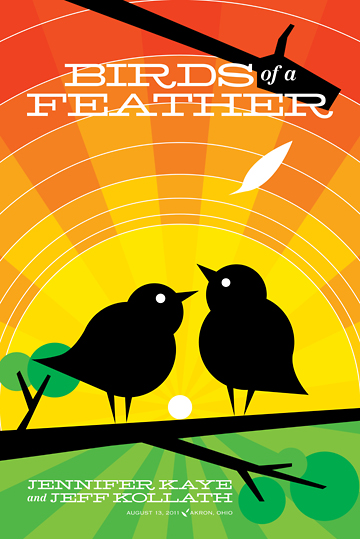 Be good people. Know good people. Do good work. I'm fortunate to know and work with two amazing people, Jeff and Jen Kollath, formerly and currently of the Wisconsin Veterans Museum, respectively. So when they decided to get married in 2011 I jumped at the chance to return the favor and design these invitation and posters for their wedding day (a day documented front-to-back by my favorite photographer.
After a few seasons passed and the warm summer color palette gave way to winter the Birds of a Feather hatched a nest egg with the arrival of their baby boy, Presley!